Welcome to Sarisbury Green Big Band
The big band consists of trumpets, trombones, saxophones (some doubling on clarinet). piano, bass and percussion.
This friendly bunch of local musicians play a mix of Blues, Swing, Jazz, Rock, Soul, Latin and Dixieland. Listen to this example of The Pink Panther.
A repertoire of over 400 pieces has been gathered over the years, including several rare, unique arrangements.
The band performs a few times per year in public, with "Jazz in the Vineyard" being one of the highlights as a fundraising event. (more info here).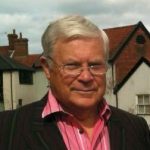 Bandleader Tony Linford has been actively involved in Jazz for many decades, working as a brass and percussion specialist in Hampshire Music Service, and has been a musical director for his own Jazz Orchestra, 'Southampton All-Stars Big Band' since its foundation in 1963.
Rehearsals are on Thursdays at the Sarisbury Green Parish Rooms, 7 – 9pm.
You're very welcome to come along and listen.
We have vacancies for trombone and trumpet (minimum standard Grade 4 to 5).
For any questions, get in touch via our contact form here.
Below is a soundbite of Pink Panther: